Thank you to all the incredible speakers, sponsors and attendees who made JCON WORLD ONLINE an outstanding event!
We're excited to let you know, that our next big event will be this year in MAY 2024 called JCON EUROPE! Our big International Java Community Conference at Cinedom, Cologne.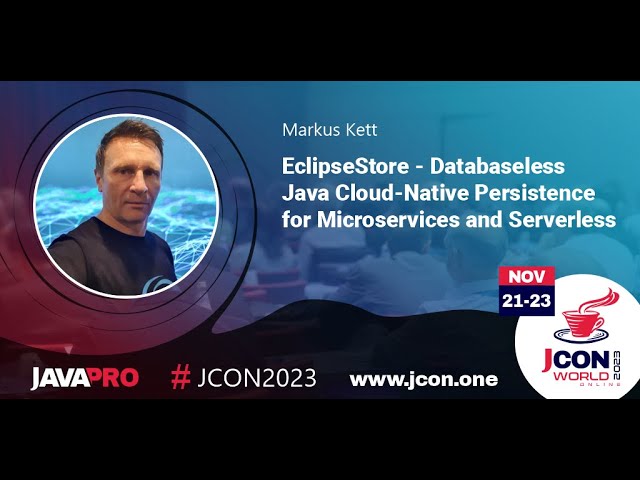 When you click the play button, content from the YouTube video platform is loaded. Cookies can be saved in the process.
Keynote | EclipseStore - Databaseless Java Cloud-Native Persistence for Microservices and Serverless
Hibernate is the de facto standard persistence framework for traditional Java database applications. Now, EclipseStore was built to be the Java persistence for containerized microservices and serverless functions. EclipseStore follows the system prevalence architectural pattern. The engine enables seamlessly storing any Java objects of any size and complexity transaction-save into cloud-native blob stores such as AWS S3 or any other binary storage. ACID transactions are journaled and deltas of the system state are regularly saved to disk. To reduce startup time and run also with a small RAM capacity of under 1 GB, MicroStream provides lazy loading. With Java Streams API, queries are executed in memory in microseconds - way faster than comparable JPA queries. Implementing is simple. There are no requirements for the entity classes, no annotations, interfaces, or superclasses, just POJOs. Additionally, expensive mappings or any data conversions are eliminated. The core benefits are extremely high performance, simple implementation, running trouble-free with stateless microservices, and reduced cloud storage costs.
Markus Kett
CEO of MicroStream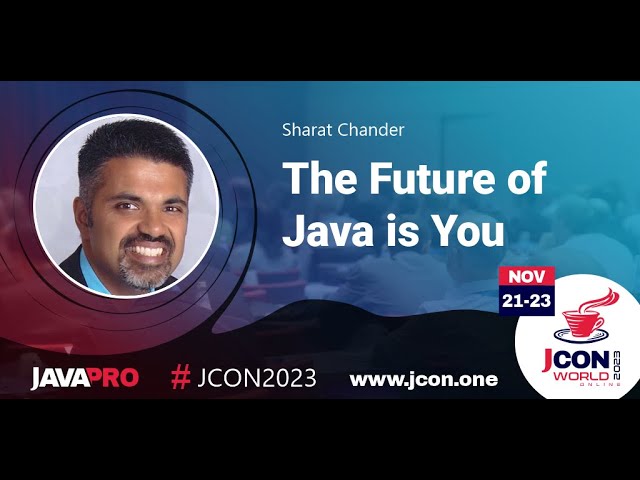 When you click the play button, content from the YouTube video platform is loaded. Cookies can be saved in the process.
The future of Java is you | Sharat Chander (EN)
For more than 25 years, Java has empowered developers to create the next generation of rich, scalable, and secure applications. It's shaped the world we live in by offering new ways to address the ever-evolving technology landscape. But it's not just the technology that's kept Java so vibrant. That innovation is only possible because of you. In this keynote, learn how the developer community plays an important role in ensuring Java will remain relevant for the next 25 years and beyond.
Sharat Chander
Senior Director, Java Developer Engagement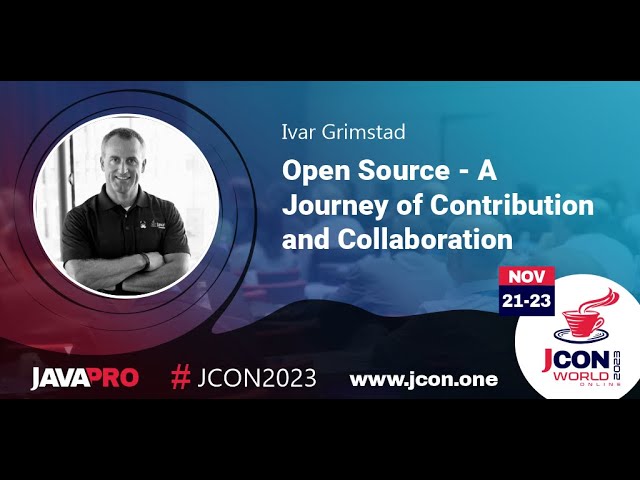 When you click the play button, content from the YouTube video platform is loaded. Cookies can be saved in the process.
Open Source - A Journey of Contribution and Collaboration
Have you ever worked on a project that didn't use any open source tools, libraries, or products? Didn't think so...Using open source has been such an integral part of our daily work life that we don't even think about it. We just expect it to be available, secure, stable, and bug-free. But how many of you are actually contributing back to an open source project? This session will go through a couple of the aspects to consider when you are embarking on your open source journey. We will look at different kinds of open source projects, and what the open source foundations bring to the table.
Ivar Grimstad
Jakarta EE Developer Advocate
About JCON WORLD ONLINE 2023
JCON WORLD ONLINE 2023 is the big international ONLINE Java community conference organized by the Java User Group Oberpfalz in cooperation with JAVAPRO Magazine. Java is our profession and JCON is our passion and a lot of fun. We love to provide Java developers with a spectacular 100 % live conference open to the entire Java-User-Group communities world wide.
Last year, more than 2,600 participants from 77 countries and six continents had joined JCON-ONLINE 2022.
The 8th JCON edition is presented as an online live conference for the third time. All sessions will be streamed live and recorded.
Focus on Core Java & Cloud-Native Java
JCON traditionally focuses on Core Java, Serverside Java, APIs and Frameworks because that's what we as Java developers work with every day. However, the main topic will be Java-Cloud-Native and Microservices, because this is the future of Java and a must-have for Java developers.
Past Impressions of JCON WORLD ONLINE
Online, Zoom
Sandra Ahlgrimm
Cloud Advocate at Microsoft
Sven Ruppert
Developer Advocate at JFrog
Matthias Gutheil
Software Architect at itemis
Sascha Hesse
Enterprise Architect Cloud at Danfoss
Werner Keil
Director, Creative Arts & Technologies
Mary Grygleski
Streaming Developer Advocate at DataStax, Java Champion, President of Chicago-JUG
Reza Rahman
Principal Program Manager, Java on Azure at Microsoft
Markus Kett
JAVAPRO Magazin Editor in Chief
CEO at MicroStream
Brian Demers
Developer Advocate at Gradle
Emily Jiang
Cloud Native Architect and Advocate, IBM
Kito Mann
Principal Consultant, Virtua, Inc.
Marcus Hellberg
VP of Developer Relations at Vaadin
Richard Fichtner
Founder JUG Oberpfalz, CEO of XDEV Software
Grace Jansen
Developer Advocate, IBM
Nicolas Fränkel
Head of Developer Advocacy, Apache APISIX
Since the start of JCON, it has been the continuous support from companies and organizations partnering with us to help create events that bring the Java community together. We thank each and every one of our partners for their fantastic support! Please take a few minutes to learn about our partners and let them know you appreciate their support of our community!
Store and load any Java Object Graph or Subgraphs partially, Relieved of Heavy-weight JPA. Microsecond Response Time. Ultra-High Throughput. Minimum of Latencies. Create Ultra-Fast In-Memory Database Applications & Microservices.
XDEV Software GmbH, based in Weiden/Bavaria, is a German software development company specializing in Java. Among other things, XDEV is the maintainer of various open-source developer tools.
RapidClipse X is a visual Java development environment for the fast and efficient development of individual business applications. Save up to 90% development time.
Easily manage Call for Papers, Speakers and Agenda for your conference!
Event management software for in-person, hybrid, and virtual events that's quick to learn and easy to set up.
Java User Group Oberpfalz is an open community to exchange ideas on current topics relating to the application of Java technology in Bavaria / Germany.
We offer contacts and exchanges within the regional Java community and regular talks and discussions on current Java topics.
JAVAPRO is the very first professional magazine for Java which is free of charge.
JCON WORLD ONLINE 2023 offers discounted tickets for Java User Group members, students and hobbyists.
Send us your Logo and your JUG website / meetup page URL. Of course, it's free of charge.
We love Java. That's why we want to bring together Java developers from all over the world. To learn, to connect, to have fun. The feedback we receive proves us right and motivates us to keep going.
JCON is a team effort and a conference by developers for developers. The JUG Oberpfalz does the heavy lifting in organizing everything. But the heart of the conference are our speakers with their sessions.
We often work in completely different branches, but Java is our common denominator and connects us all. Over the years, not only acquaintances but friendships have formed on account of JCON!
---
STAY UP TO DATE,
SUBSCRIBE TO OUR NEWSLETTER!
SPONSORSHIP
We are looking for organizations that want to partner with us. So, if you know someone who loves the Java community just as much as we do, please get in touch: